Travelling to Vienna
Vienna is very accessible by rail, road and air. This makes it easy to travel to the venue of the congress. Please consider an environmentally friendly transportation with public transport, carpool and by foot for short distances. You can also contribute by CO2 compensation. Please go to: www.climateaustria.at or www.myclimate.org.
Air Transportation
With approximately 600 daily arrivals and departures, Vienna International Airport (VIE) is the major airline hub in the region. The airport is located approx. 15 kilometers South-East of the city center. Direct intercontinental flights arrive, for example, from:
Beijing
Bankok
Delhi
Seoul
Taipei
Chicago
Miami
Newark
Washington, DC
In total, 127 cities worldwide have direct flight connections with Vienna. In addition, there are frequent flights from all major European hubs like Frankfurt, London, Paris, or Madrid to Vienna International Airport, which allows for fast and easy connections even in cases when no direct flight is available. By far the largest number of flights connect to various European destinations. In addition to the major routes to Western Europe, Vienna International Airport connects well to Central and Eastern Europe and the Balkan region.

A second option is the airport of the Slovak capital Bratislava (BTS). It is located approx. 80 kilometers East of Vienna and connected by bus and rail links. Some budget airlines fly to BTS instead of VIE.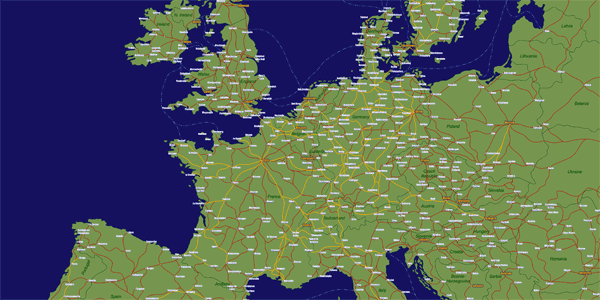 Rail connections
Vienna is the most important rail hub in Austria. The new main railway station "Hauptbahnhof" connects international lines from all directions: Germany, Switzerland, Italy, Slovenia, Hungary, Slovakia, and the Czech Republic. Secondary train stations besides "Hauptbahnhof" are "Westbahnhof", "Wien Mitte", and "Wien Praterstern".

Most rail connections are operated by the Austrian rail company "ÖBB". Connections to the West (Linz, Salzburg, Munich) are also offered by the private rail company "Westbahn". For schedules and tickets see the homepages of ÖBB and Westbahn.
Road connections (car/bus)
Road connections are well developed in Austria with freeways running from Vienna toward the West, the South and the East. Using freeways in Austria requires a toll sticker (see Asfinag for more information).

A very cheap option to travel to Vienna is by long distance bus. One provider of such a service is Flixbus.
How to get from the airport to the city
Vienna International Airport is located 16 kilometers East of the city center in Schwechat. There is a range of options available for your travel between the airport and the city. Here is a list of options with links to further information:
The Express train S7 runs every 30 minutes and connects you to a number of stations in the city like Wien Mitte – Landstraße, Wien Praterstern, and Wien Floridsdorf. Because of a number of intermediate stops, the travel time between airport and Wien Mitte – Landstraße is 25 minutes. The price of a single ticket is € 2.40.
The CAT – City Airport Train offers a non-stop connection between the airport and Wien Mitte – Landstraße. Travel time is just 16 minutes. The price of a single ticket is € 11.-.
Bus connections serve different locations in the city (e.g., Westbahnhof, Morzinplatz/Schwedenplatz) from the airport. More details about service providers, destinations and prices can be found at https://www.wien.info/en/travel-info/to-and-around/airport-to-center/bus-connections.
If you prefer door-to-door service you can hire a limousine or a taxi either in advance over the Internet or upon arrival at the airport. A number of companies offer fixed price service. Please, search for them on the Internet. The airport provides general information for arriving passengers at its homepage.
Unless you plan to take extensive trips into the surrounding areas, we recommend not to rent a car. Parking in Vienna is highly restricted. Because of Vienna's excellent public transport system you can be highly mobile in the city without a car.
Getting around in Vienna
Vienna has an excellent public transport system with a dense network and short service intervals. Here is a link to the full network. The backbone of the public transport network are the subway and rapid train connections shown in this graph. The congress venue is close to the stops Messe – Prater and Krieau on the U2 subway line (marked by a red arrows). At the station Messe-Prater you can also find a City bike Vienna rental. In addition there are bike parking areas for more than 200 bikes (marked by arrows) at Campus WU for participants of the congress.
Wiener Linien, the Vienna public transport company, offers a range of tickets. You can buy them at their ticket offices or in their online shop (recommended). Your best deal for congress participants is the Vienna weekly ticket for € 16.20. This ticket is valid from Monday 00:00 to the following Monday 9:00 for any number of rides on the whole network (for details check the webpage). Tickets can be bought about two months in advance from the Wiener Linien web shop. Below are step-by-step instructions for bying your ticket.
Getting your public transport ticket
Go to the homepage of WienerLinien and switch to the English version.
Select "Tickets", then "Ticket Guide"
Click on "Short Term Tickets"
Click on "Vienna Weekly Ticket"; make shure the select box shows "Vienna Weekly Ticket" and that the price is €16.20
Now select the type of ticket delivery (we recommend "Print ticket"), the correct week ("22 Aug 2016") and proceed to the shopping cart
Concerning the options for airport travel, see the information above on this page.
Proceed through the online shop to complete your purchase
The ticket you buy online will be personalized. Therefore, you have to provide personal data. The ticket is non-transferable and you need to be able to show your ID when using this ticket.